Yesterday afternoon, we headed out to the barn to feed the horses and goats. Jack continued on up the hill to the chicken house and yard. Usually, on our late afternoon rounds, the chickens are let out to run around the farm a bit. Even though they have a rather large yard outside their house, they seem to enjoy foraging through the woods for a bit each day. When he reached the place where the chicken yard came into sight, Jack saw a hawk sitting on the fence. Upon seeing Jack coming his way, the hawk took flight. Feeling concern about the hawk's close proximity to the chickens, Jack ran to the chicken yard to check on the girls...only to find the smallest of our red chickens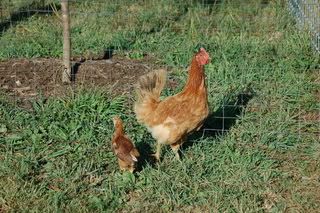 (a fancy one) decapitated and partially eaten. On the farm, this is a sure sign of winter. The small, wild animals have taken to their burrows and now the hawks hunt anything they can...which usually causes a sharp decrease in our chicken population.
In an attempt to prevent any further loss, we spent this morning covering the chicken yard with bird netting to keep the hawks out. No more exploring around the farm for our dear girls until Spring.
Oh, and by the way, have you ever seen an egg like this one?